Small cat/dog cushioned cover Mossey Oak camo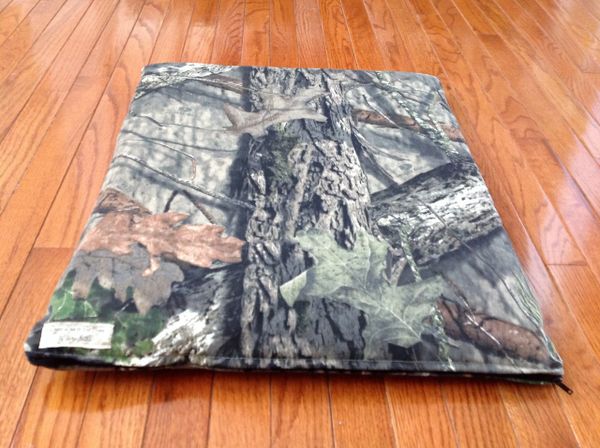 Small cat/dog cushioned cover Mossey Oak camo
 Small cat or dog cushioned cover. The cushion cover is made from Mossy Oak cotton fabric.  This interchangeable cover fits any small vinyl mat we make so if you choose to invest in any small vinyl mat this cover will fit over the vinyl mat or you can use it with the cover and the insert.  In other words, all covers are interchangeable and will cover any of my vinyl mats that are the same size.  You can use these on your furniture or bed for your pet to sit or lay on or use in the floor to protect your pet from the hard surfaced flooring.  You can even sit on them if sitting in the floor.
I travel with my mats and cushions because my dog always travels with me so I take her mat with us so she has something of her own to lounge on while in the hotel room.  I use the cushioned cover in my car in the back seat for her to lay on and my brother uses his marine vinyl mat in the very back of his car so his dog to lay on while traveling.  A mat with many uses and so easy to carry around with you.
WASHING INSTRUCTIONS - REMOVE THE 100% POLYESTER INSERT BEFORE PUTTING THE COVER IN THE WASHING MACHINE. Do not wash the insert. You can machine wash your cover in warm or cold water or hand wash if you prefer. Machine dry the cover on delicate or fluff cycle or line dry.  DO NOT EXPOSE THE INSERT TO ANY HEAT OF ANY SORT SUCH AS A HAIR DRYER, CLOTHES DRYER OR HEATERS.  THE INSERT IS 100% POLYESTER AND WILL MELT IF PUT NEAR HEAT.

Doggie Digs & Cat Naps is not an agent of, a representative of, an employee of or associated with any of the licensed fabric manufacturers who sell their fabrics to retail stores for resale to the public.
Featured Products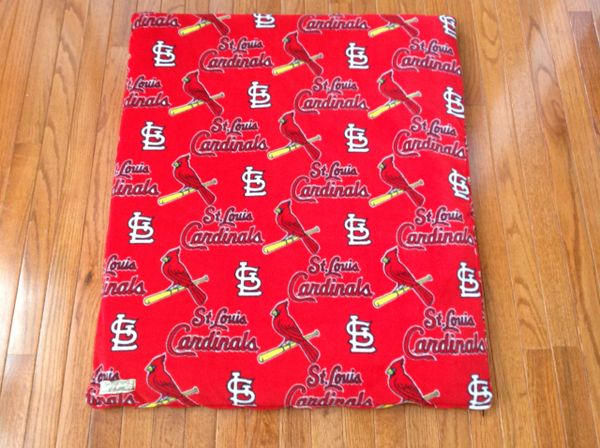 Cover - medium mat cover made from MLB St. Louis Cardinal's fleece fabric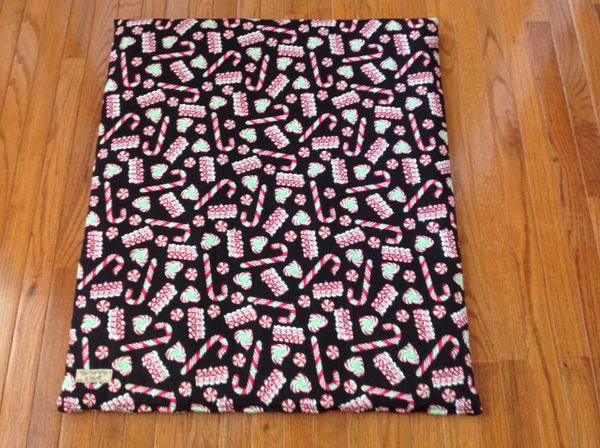 Cover - Medium Christmas mat Cover