Mat - medium mat designer vinyl crocodile look red - very soft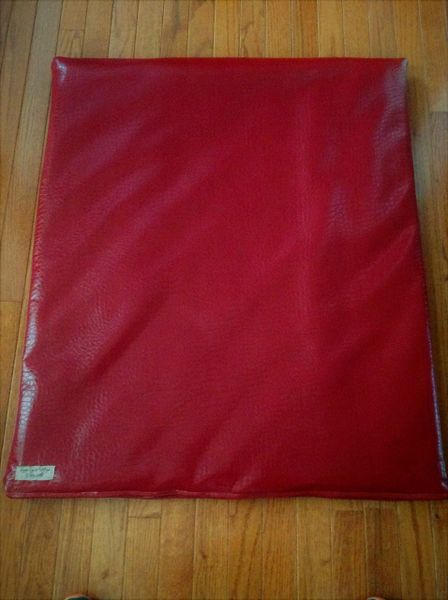 Mat - medium mat designer vinyl crocodile look red - very soft
Medium designer crocodile vinyl  mat.  A very pretty red color.  This mat is very soft and is recommended for indoor use only.  Use for your pet or you can use for people to sit on instead of sitting in the floor when extra seats are needed. This one is such a soft lighter weight vinyl.  If your pet has sharp nails or hard thick ones, that remain on the longer length, this one may not be the best for you.  It is very nice but would be better suited for a calm dog or declawed cat.  Everyone has their preference but I want to point out as many pros and cons on each and every one.  Remember, we offer interchangeable covers so you can add a cover to protect these.  We constantly are adding covers of all types and will be adding covers representing holidays, birthdays, ball teams, etc.  If you have a particular idea for a cover please feel free to mention to me and I will do my best to track down the fabric.  We also do custom orders too.
Use warm damp cloth with mild soap to gently wipe clean when needed. 
DO NOT PUT THIS PRODUCT IN THE WASHING MACHINE AND DO NOT EXPOSE ANY OF THIS PRODUCT TO HIGH HEAT SUCH AS A CLOTHES DRYER, HAIR DRYER OR HEATERS OF ANY SORT.  VINYL AND THE 100% POLYESTER INSERT CAN AND WILL MELT IF THE TEMPERATURE IS TOO HOT. 
Featured Products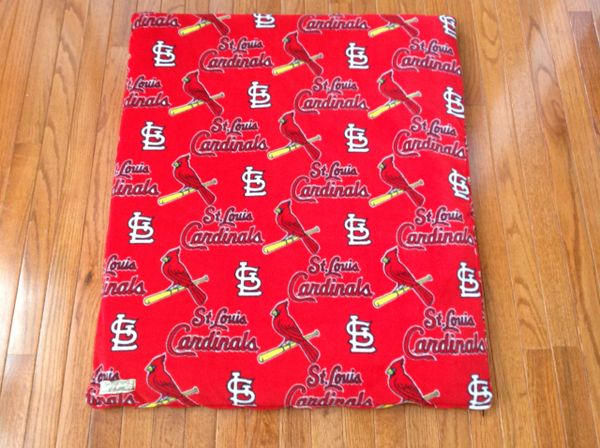 Cover - medium mat cover made from MLB St. Louis Cardinal's fleece fabric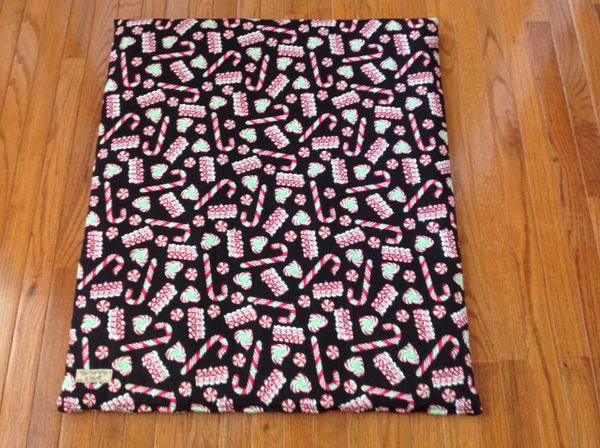 Cover - Medium Christmas mat Cover