Mat - medium - designer leather look and feel vinyl blended browns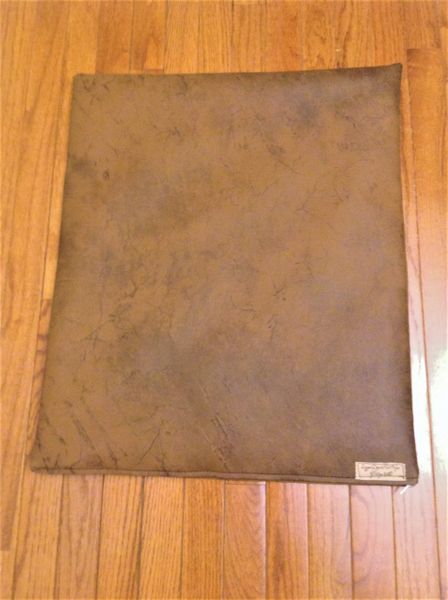 Mat - medium - designer leather look and feel vinyl blended browns
This medium beautiful designer leather look vinyl mat is definitely one of my favorites.  It has a wonderful blend of brown tones that make it  such an outstanding accent pet lounger for your home.  It is soft and is durable but definitely has that upscale look to it.  Remember this is not a bed for your pet but it is a lounging mat that will be comfortable to lay on opposed to the hardwood or tile floors in your home.  You may have to train them to lay on it as anything else but once they learn they should enjoy their new lounger.  It is so much easier on their joints than hard surfaces.
 Check out our interchangeable covers to transform your mat to a different look on our website.  We only make 1 or several of each cover so it will create a uniqueness.  We are adding new products and interchangeable covers.  If you have a specific idea for a cover for a certain hobby or holiday cover, etc., please let us know and we will see if we can track down the fabric. My email is at the bottom of this page.
CARE INSTRUCTIONS: Wipe clean with cloth, warm water and mild soap such as Dawn dish washing liquid. Do not clean with harsh cleaners.  If water does get in it simply lay mat over back of a chair as you would a wet towel with the zipper facing downward and no need to unzip. The water will drain out of the zipper area on its own.  The mat and polyester insert is 100% water and mildew resistant, however, this mat is not marine vinyl as some of the others are so it is recommended for indoor use only. If the mat get liquid on it wipe down as quick as possible.  If you take good care of this mat it should last you a very long time.
DISCLAIMER: DO NOT PUT ANY PART OF THIS PRODUCT IN THE WASHING MACHINE.  NEVER EXPOSE ANY OF THIS PRODUCT TO HIGH HEAT OF ANY SORT SUCH AS HEAT FROM A HAIR DRYER, CLOTHES DRYER AND KEEP AWAY FROM HEATERS OF ANY TYPE. THE VINYL MAT CAN MELT WHEN EXPOSED TO HIGH HEAT AND THE  POLYESTER INSERT WILL MELT IF EXPOSED TO HEAT. 
DO NOT ALLOW YOUR PET OR A PERSON TO CHEW AND OR SWALLOW THIS PRODUCT.  IT COULD CAUSE YOU TO CHOKE TO DEATH IF CAUGHT IN THROAT OR COULD CAUSE SICKNESS.
tsaliba@doggiedigsandcatnaps.com
Featured Products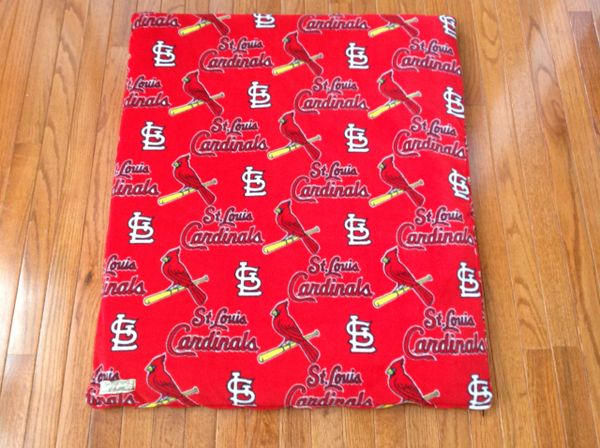 Cover - medium mat cover made from MLB St. Louis Cardinal's fleece fabric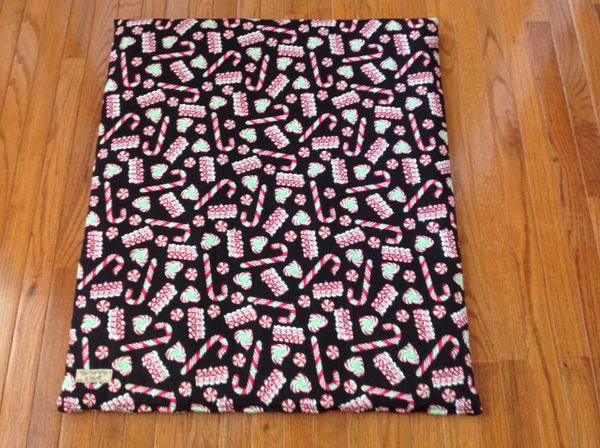 Cover - Medium Christmas mat Cover